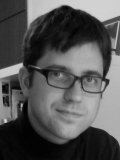 Diplom-Ingenieur, Ph.D. (Izmir Institute of Technology, Turkey), freelance architect, and senior research associate at Lucerne University of Applied Sciences and Arts.
Previous appointments in architecture and urban planning, practice mostly in Turkey and Germany. Research in the fields of daylight planning, light simulation and optical characterization of surfaces and structures for applications in building facades and solar energy generation. Contribution as a student assistent to a research project on the late-antique interior of Hagia Sophia, supported by Deutsche Forschungsgesellschaft.
Besides German as mother-tongue, English, French, Latin and Turkish language skills.
2014-

Doctoral program in Architecture at Izmir Institute of Technology, Izmir, Turkey.

2012-

Senior research associate at Competence Centre Envelopes and Solar Energy, Lucerne University of Applied Sciences and Arts. Project lead of a research project supported by the Swiss National Science Foundation on daylight redirecting components.

2010-

Freelance architect as associate of Architektur+Städtebau E. Grobe-Kunz und L. O. Grobe GbR, Bad Honnef.

2008-2010

Research Associate at the Solar Energy Research Institute of Singapore, group leader facade technologies.

2008 (May, June)

Contrubutions to a research project on daylight simulation as visiting scholar at the School of Design and Environment, National University of Singapore.

2005-08

Internships and appointments at architectural offices in Germany and Turkey. Independent work in the framework of Archipelagus, e.g. in the field of light simulation.

2005

Diplom degree at TU Darmstadt, faculty of architecture.

2003-04

Studies in architecture at Istanbul Technical University.

2001-

Appointment as student assistent in a research project on Hagia Sophia in Istanbul at Dept. of Classical Archaeology, TU Darmstadt.

2000-03

Member of the student team of Rechnerpool at TU Darmstadt faculty of architecture. Migration of the core network services to open source solutions.

1995-2003

studies in architecture at TU Darmstadt. Member of various committees of the university and the student body.

1994-95

Civilian service, State Institute for Chemical and Veterinary Analysis of Food of the state of North Rhine-Westphalia, Münster.

1994

Abitur (German university-entrance diploma) at the municipal Siebengebirgsgymnasium Bad Honnef.

1974

born in Bonn.